Unveiling hidden stars: remarkable Latino contributions in the history of the United States
by Viviana López Green, Esq., Senior Director, Racial Equity Initiative
In May 2023, the Johns Hopkins Institute for Education Policy and UnidosUS published a joint study report that revealed the extent in which current Latino-focused content in history and social studies textbooks — and by implication curricula — fall far short of what should be required.
About 13% of key topics required to have a basic understanding of the Latino experience in American history were covered in depth by the textbooks; the other 87% were either not covered or were covered in less than five sentences. These findings are even more relevant when we consider that Latinos are currently the largest ethnic or racial minority in the United States, and the proportion of the Hispanic population is expected to grow to 29% by 2050.
The history of the United States is woven with diverse threads, each representing a unique perspective and cultural identity. Yet, all too often, the mainstream narrative overlooks the profound and lasting contributions of Latinos to the nation's development. Because topics related to Hispanics aren't taught in school, most Americans receive little information about who Latinos are and what role they have played in the growth of our nation.
The inclusion of the Latino experience and contributions in U.S. history is not only a crucial step in building a more inclusive story and society; it is a responsibility that compels us to tell a more accurate and complete narrative of how this nation came to be and continues to shape itself. It is of vital importance to amplify the voices, achievements, and struggles of Latinos in the grand narrative of U.S. history. By acknowledging these contributions, we enrich our understanding of the nation's journey, celebrating the mosaic of cultures and identities that continue to shape the United States. Unsurprisingly, research shows that all students, not just under-represented minorities, have higher academic achievement when exposed to inclusive curricula.
This Hispanic Heritage Month, let's honor the multifaceted story of the United States and ensure that the remarkable achievements of Latinos receive the recognition they rightfully deserve. Let us remember and celebrate some of the many hidden stars who have illuminated the path toward a more diverse and prosperous America.
Forgers of Pathways of Exploration
History is complex, and sometimes problematic. Latino American history is no exception to this rule. Instead of seeing historical figures and events in a binary fashion, as in being either "good" or "bad," we need to be nuanced rather than painting with broad strokes. Doing so will ultimately result in a deeper analysis of the historical record. Perhaps there is no better example, or a more challenging one, than that of the role played by Spanish conquistadores, who are also part of our heritage and history. Acknowledging their roles as explorers should not be construed as justification for their eventual conquest and colonization of indigenous peoples. Recognizing the "good" and "bad," as some may say, is not mutually exclusive and leads to historical complexity and a better understanding of our past.
Spanish explorers, for example, were charting the American landscape long before the Pilgrims set foot on Plymouth Rock in the early 17th century. Juan Ponce de León, a Spanish conquistador, is known for being the first European to set foot in the territory that we now know as Florida in 1513. In this expedition, de León was joined by the African-Spanish explorer Juan Garrido, the first documented Black person to arrive in North America. Another Spanish explorer, Juan Rodríguez Cabrillo, was the first European to set foot on the West Coast in 1542. These, among other Spanish explorations, laid the foundation for the eventual expansion of the United States.
Contributors in the Westward Expansion 
Similarly, recognizing the contributions made to western expansion does not mean justifying the displacement and mistreatment of native populations, for these actions are unjustifiable.
Signed on February 2, 1848, the Treaty of Guadalupe Hidalgo officially ended the Mexican–American War (1846–1848). With it, Mexico ceded to the United States 55% percent of its territory, including the present-day states of California, Nevada, Utah, New Mexico, most of Arizona and Colorado, and parts of Oklahoma, Kansas, and Wyoming. Mexico also relinquished all claims to Texas and recognized the Rio Grande river as the southern boundary of this state. After this large territorial expansion, the conquered Mexican population was a marginalized minority — despite purportedly being granted full rights of American citizenship by the Treaty of Guadalupe Hidalgo. However, Californios, Tejanos, and all those who descended from Spanish and Mexican settlers of the 17th through 19th centuries in these territories were all contributing forces in the cultural, political and economic development of the region and the country. For example, Tejano Juan Seguín fought against Mexican dictator Santa Ana and later became mayor of San Antonio.
Champions of the Civil Rights
Latinos have historically been at the forefront of the fight for civil rights.
Cesar Chavez and Dolores Huerta tirelessly advocated for the fair treatment of farmworkers through the United Farm Workers union, leading to crucial labor rights reform and significantly influencing the broader civil rights movement.
Other Latino names and cases also made a great impact in the fight for civil rights in the United States. Sylvia Mendez, a 9 year-old American girl of Mexican and Puerto Rican descent, was the central figure in the landmark 1946 Mendez v. Westminster case that led to the desegregation of California schools and paved the way for integration—8 years prior to the Brown v. Board of Education case.
In 1961, Antonia Pantoja founded Aspira to focus on improving education for Puerto Ricans; the organization later won a consent decree to advance equal educational opportunities for language minority students in New York.
Pioneering Women in Science
Born in Puerto Rico, Antonia Novello led several major public health campaigns in her efforts to improve health conditions and access to medical care, especially for women, children, and minority populations. In 1990, President George H.W. Bush appointed her the United States' 14th Surgeon General, the nation's top health official. She is the first woman and the first Hispanic person to serve as U.S. Surgeon General.
Dr. Ellen Ochoa—the first Latina astronaut—broke barriers in 1993 when she traveled aboard the Space Shuttle Discovery. She was the Johnson Space Center's first ever Hispanic director and only its second female director. Ochoa is a co-inventor on three patents and author of several technical papers. She has also been recognized with NASA's highest award, the Distinguished Service Medal.
Political Trailblazers
Latinos have long held positions of influence in U.S. politics. As early as 1821, José (aka Joseph) Hernández was elected as the first Hispanic American member of the United States Congress, after serving as the first delegate from the Florida Territory.
Octaviano Ambrosio Larrazolo served as the fourth governor of New Mexico and later became the first Mexican-American and the first Latino United States senator in 1928.
Dr. Lauro Cavazos served as the United States Secretary of Education in 1988, becoming the first Hispanic to serve in the United States Executive Cabinet.
Ileana Ros-Lehtinen was the first Hispanic woman elected to U.S. Congress in 1989 where she served for three decades. She was the first congressional Republican to publicly support same-sex marriage. Prior to making history in the U.S. Congress, she was also the first Hispanic woman to serve in the State of Florida House of Representatives and also the first in the Florida Senate.
More recently, Sonia Sotomayor broke boundaries in 2009 by becoming the first ever Latina and only the third woman to serve on the Supreme Court of the United States.
Defenders with Military Valor
Latino soldiers have displayed exceptional valor on the battlefield. The 65th Infantry Regiment known as The Borinqueneers, comprised primarily of Puerto Rican soldiers, earned numerous medals for their service during World War I, World War II, and the Korean War. Staff Sergeant Marcario García was not yet a U.S. citizen when President Harry S. Truman awarded him the Medal of Honor in 1945 for his heroic actions as a soldier during World War II. García became the first Mexican national to receive the American military's highest honor.
In all, 59 soldiers of Hispanic descent dating back to the Civil War and every military conflict since have earned Medals of Honor. Their bravery and sacrifice exemplify the dedication Latinos have exhibited in defending the nation.
Enrichers of the American Culture
The Latino community has indelibly shaped American culture throughout history. Latino musicians, artists, writers, and performers have enriched the nation's cultural tapestry.
Some are widely recognized, but figures like the author Piri Thomas are less mentioned. Thomas won national acclaim with his best-selling memoir Down These Mean Streets (1967). Born from a Puerto Rican Mother and a Cuban father, he chronicled his struggle for survival while growing up as an Afro-Latino in Spanish Harlem. The book narrated the rampant racism of the era before the Civil Rights Act of 1964.
Rita Moreno broke new ground for Latinos in entertainment. One of the last remaining stars from the Golden Age of Hollywood, she won an Oscar for best Supporting Actress in 1961 for her role as Anita in West Side Story, making her the first Latina to win the honor. She is one of the few performers to have achieved PEGOT status and the first Latina to ever do so—winning the Peabody, Emmy, Grammy, Oscar, and Tony awards.
Most recently, playwright and actor Lin Manuel Miranda transformed the Broadway musical genre through Hamilton, his Pulitzer Prize-winning epic.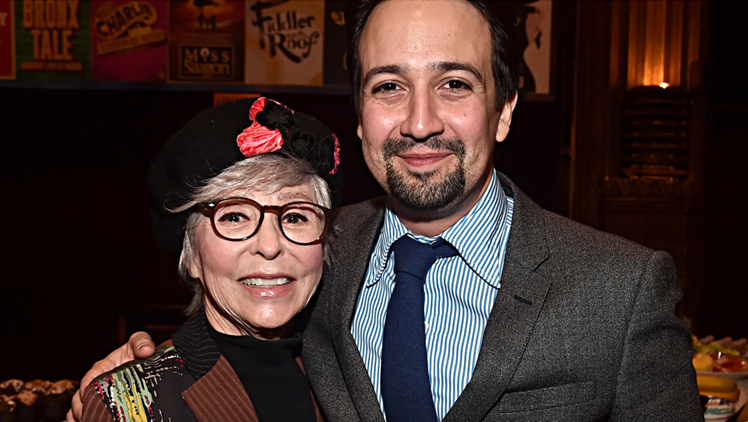 These famous Latinos should be better represented in school textbooks and curricula, not just to celebrate their extraordinary individual achievements but also because they represent the contributions of to our day-to-day lives.
For example, Venezuelan-American Baruj Benacerraf won the 1980 Nobel Prize for his pioneering work in the then-emerging science of immunology.  And today, nearly 2.2 million Latinos are nurses, doctors, technicians and aides that apply some of his findings to keep us healthy. Cesar Chavez and Dolores Huerta won fame for their role in organizing farmworkers, and today, almost one-third of agricultural workers and a quarter of all food-related workers are Hispanic, toiling mainly in obscurity to put food on our tables. As our nation grows more diverse, it is long past time for our history texts to accurately reflect that diversity, and there's no better time to start than Hispanic Heritage Month.