This UnidosUS Affiliate in Chicago is creating a community where everyone can thrive
The Center for Changing Lives (CCL) supports and uplifts individuals who have been limited by a lack of resources and economic opportunities to help them discover new possibilities, overcome barriers, and realize their full potential.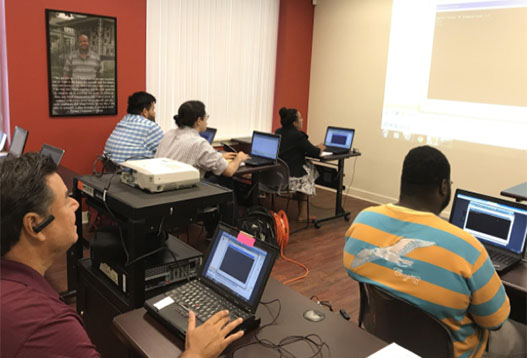 The Chicago-based nonprofit operates under the fundamental belief that all people are creative, resourceful and whole. And CCL has a track record of helping clients increase their income, net worth and credit scores through financial coaching and other services.
In 2017, CCL provided financial coaching to over 360 community members. And the results speak for themselves:
281 community members increased their net income.
219 community members grew their net worth, paying down debts and increasing assets.
285 community members raised their credit scores resulting in improved access to services, products, housing and employment.
237 community members improved their financial positions through other means such as opening a bank account or gaining a new asset.
CCL repping at LSNA's Congress! We advocate, organize w/LSNA to make sure everyone has the opportunities they need to achieve their vision. pic.twitter.com/6j0YBCxY3Z

— Center4ChangingLives (@CCLchicago) May 16, 2017
After years of providing financial services, CCL recognized that although clients benefited from financial coaching, many faced an additional common barrier: low wage jobs with limited prospects for advancement.
It was clear that clients would benefit from a workforce training program that would help them gain the knowledge and skills needed to launch a better career.
CCL decided to take on this challenge with the goal of helping their clients obtain family-sustaining jobs within high-demand industries.
In 2015, CCL launched a Bridge program with technical assistance from UnidosUS. The program provides participants with literacy and numeracy skills specifically designed for pursuing careers in the information technology sector.
After graduating from the program, participants enroll in a CompTIA+ training offered on-site at CCL, or continue their education at one of the City Colleges of Chicago.
@LISCChicago hosting our Financial Opportunity Ctr partners @ChicagoCommons @JaneAddamsRsCor @NLEN_Jobs @POAHchi @Instituto1977 @CCLchicago pic.twitter.com/Q5vqJLNIO5

— Meghan Harte (@Harte106) January 18, 2018
With renewed funding from UnidosUS in 2017, CCL continued to put participants on the path to success.
"We like to say that our cohorts get better each time around," says Alexandra Canalos-Castillo, Director of Programs. "We have added a new service, resource or opportunity to this program each time we run it."
Most recently, CCL has connected participants with mentors working in the IT field. This gives them a chance to visit corporate partners and experience a day in the life of these professionals.
At CCL, says Canalos-Castillo, participants lead with determination, persistence, and a commitment to serving others as they achieve financial stability, career advancement, and personal success. To learn more about CCL's programs, events, and other news make sure to visit their website: https://cclconnect.org/.
SEE MORE FROM OUR AFFILIATES
UnidosUS Affiliate RCMA Helps Communities Grow and Thrive Even Under Adversity
Chicago's Brighton Park Helps Families Achieve Financial Health
AltaMed's commitment to increasing access and dispelling myths during ACA Open Enrollment