Sebastian's Story: How our Affiliate and Red Nose Day are helping him be Healthy and Ready for the Future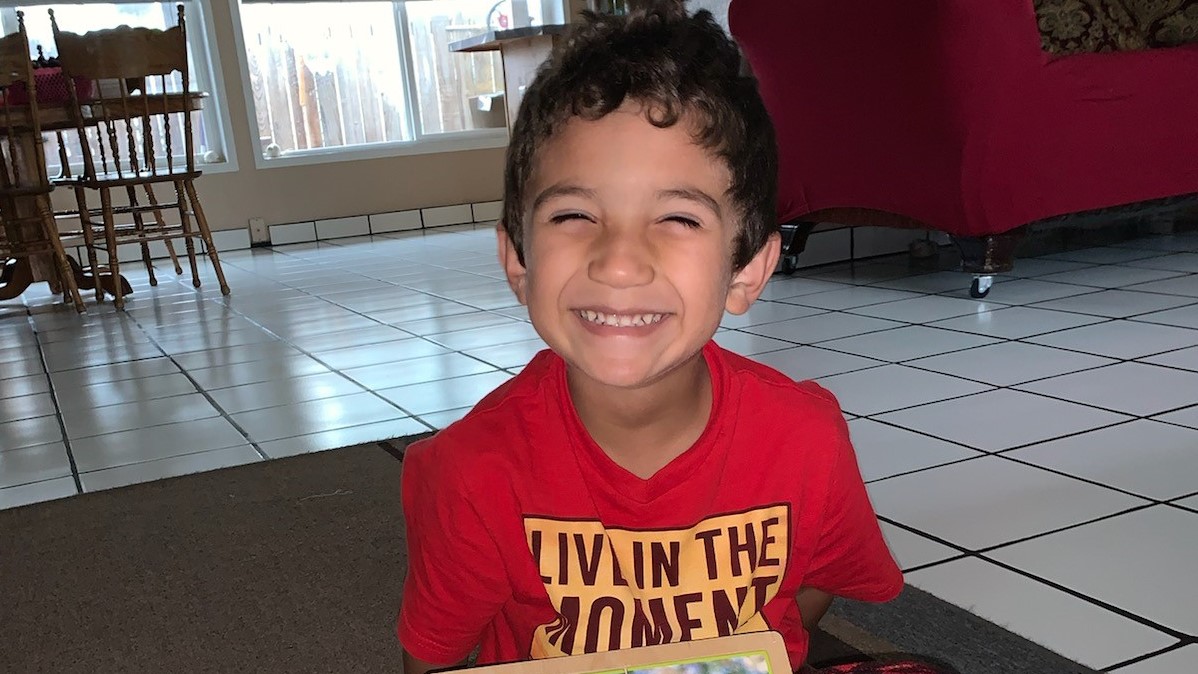 Red Nose Day is a campaign with the mission to end child poverty by funding programs that keep children safe, healthy, educated, and empowered. Through the power of entertainment, Red Nose Day brings people together to laugh and have fun, all while fundraising for children that need it the most, including the children served by UnidosUS's Healthy and Ready for the Future program, many of which are children of migrant and seasonal farmworkers.
By Laura Ortiz, Program Design and Management Compliance Specialist, UnidosUS Affiliate Inspire Development Centers
As the crisp morning comes to the small town of Mabton, Washington, farmworker families are getting ready for a long day of hard work. Angelica Espinoza, mother of three, wakes up full of life to start her daily routine of online classes as a stay-at-home mom. Her five-year-old Sebastian fidgets and struggles to focus but manages to log in and listen to the teacher's instructions.
Mrs. Espinoza shares with anyone who might have a few minutes to talk with her that she is a cancer survivor and has been given a second chance to live. She recalls being told she needed to stay isolated from her family and away from her then-infant child, Sebastian, while she battled cancer. Sebastian would softly knock on the door where she was spending her time secluded from him. A heartbroken mother, she would pray for a fast recovery so she could once again hold her child. During that time, Sebastian was raised by his immediate family and cousins. Once in remission, she spent as much time as possible with her youngest son as she felt so guilty for not being with him at such a tender stage. However, she felt the damage had been done. Sebastian was not speaking and had behavioral issues. She knew she needed help, and this is when she heard about Inspire Development Centers (IDC).
IDC is a Migrant and Seasonal Head Start provider that serves those in poverty by providing quality early childhood education services and a good oral health program that is enhanced by being a part of UnidosUS's Healthy and Ready for the Future, a program supported by Comic Relief US and Charter Communications. Mrs. Espinoza described initially struggling with the idea of enrolling Sebastian into IDC, since he was only two years old. Once enrolled, she saw the importance of early child development and the unintentional harm she felt she had caused her little one. He was initially aggressive with other children, would bite, did not share, and had a speech delay.
She was concerned that Sebastian's behavior would get him suspended and shared this with her IDC Family Advocate—Josie Barajas—who assured her that would not happen because through UnidosUS's Healthy and Ready for the Future program, they would support his social and emotional development and would provide the family with tips to help with his behavior. Sebastian's parents soon started receiving tools to better support his needs, improve his behavior, and re-enforce healthy routines.
Sebastian was evaluated by the school district and placed on an Individualized Education Plan (IEP) for speech delay and fine motor skills. His teacher, Enedina, stated she saw a drastic change in Sebastian's speech after receiving therapy in 2019. He learned to express his feelings, share toys, socialize with peers, and pay attention. In this process, dental health was also emphasized. Sebastian learned how to properly use a toothbrush, which, "He loves using to this day. He walks around brushing his teeth several times a day and likes the flavor of the toothpaste," says Mrs. Espinoza. She encourages him to brush his teeth as many times as he wants but mainly after each meal and she makes sure he does it correctly.
At the moment, she is grateful to have a safe home, food, and good health. The pandemic has brought its share of hardships and has given her many different roles, but her favorite is being able to spend time with Sebastian. As she sits in all his virtual meetings, she is also learning along with Sebastian. They know how to count in English, have learned small phrases, and use flashcards to practice. She will sometimes trick Sebastian and say, "I don't know how to write this number, can you please show me?" and he will say, "Look, Mami, it's like this," and then shows her how to write it. Precious moments like these are what she enjoys daily.
She often contemplates what kind of future she wants for Sebastian. His older siblings attend high school and college, and she hopes he will follow in their footsteps. Although she regrets needing to miss valuable time with Sebastian when he was a baby, she continues to move forward and apply everything she has learned from IDC.
This year Red Nose Day is on May 27. You can learn more about Red Nose Day, including how to help children like Sebastian, by visiting rednoseday.org.