We're Making Sure Latinos Understand Alzheimer's Disease
By Elizabeth Carrillo, Project Coordinator, Institute for Hispanic Health, NCLR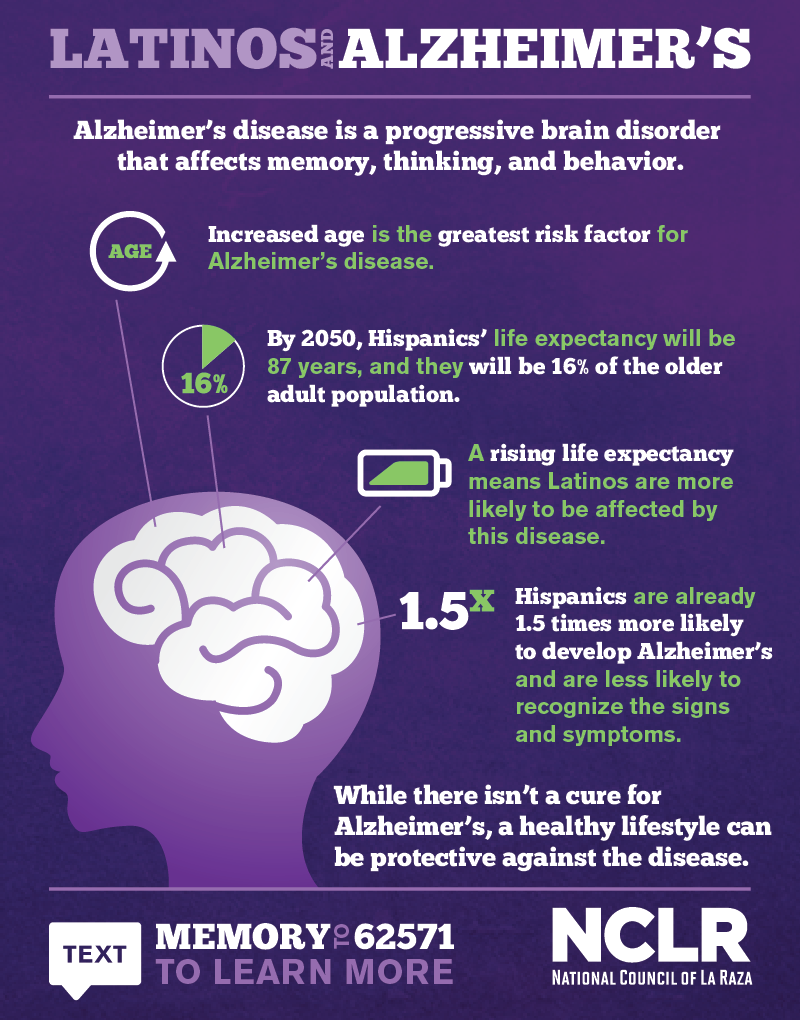 Decreased judgment, difficulty completing familiar tasks, and unusual changes in behavior or personality are all-too-familiar signs of someone living with Alzheimer's disease. For National Alzheimer's Disease Awareness Month, we want take a moment help you better understand this terrible ailment.
Alzheimer's currently affects more than five million Americans. Experts estimate that by 2050 the number of individuals age 65 and older with Alzheimer's will reach between 11 million and 16 million people—more than double today's rate. For various reasons, including family history and prevalence of heart disease and diabetes, Hispanics are at least 1.5 times more likely than Whites to suffer from Alzheimer's and other forms of dementia. Hispanics also have a higher life expectancy than other groups which, coupled with greater risk for developing Alzheimer's, means the disease will continue to increase among Hispanics.
A concern in our community is that Latinos lack an understanding of the disease's signs and symptoms, often confusing them for normal signs of aging. In fact, Latinos are diagnosed an average of seven years later than Whites, which suggests that the signs are less likely to be recognized. Earlier this week NCLR conducted a text quiz to assess general awareness of the prevalence of Alzheimer's among Latinos, and the results showed that only 35 percent of people are aware that Latinos are 1.5 times more likely to develop this disease. It's a signal that there is still much work to be done around raising awareness of the disease among the Latino community.
We must begin by understanding the normal signs of aging versus the signs of Alzheimer's. While there is still no cure for the disease, early diagnosis can lead to treatment that is more effective at slowing down its progression. Reducing one's risk for Alzheimer's—by practicing these five tips for maintaining a healthy brain—is an important step toward fighting the disease.
Increasing awareness of this disease begins with all of us. With support from the MetLife Foundation, NCLR has implemented Mantenga su Mente Activa (Keep Your Brain Active), an Alzheimer's education program led by promotores de salud (community health workers), for the last five years. The program has been implemented across 20 communities via our Affiliates in the West, Southwest, and Midwest regions of the country. Since 2010, Mantenga su Mente Activa has reached more than 4,500 Latinos through face-to-face programming, mainly via a tool kit used during charlas, or small educational sessions. It has also reached an estimated 16 million Latinos through digital media efforts of NCLR and participating Affiliates. These include tools such as a bilingual awareness video and a Spanish language public service announcement. The program has been effective at increasing awareness across specific areas, but we hope this is only the start of what will become a national effort to educate Latinos about the disease. Join us in our efforts—pass along this information to your friends and family.